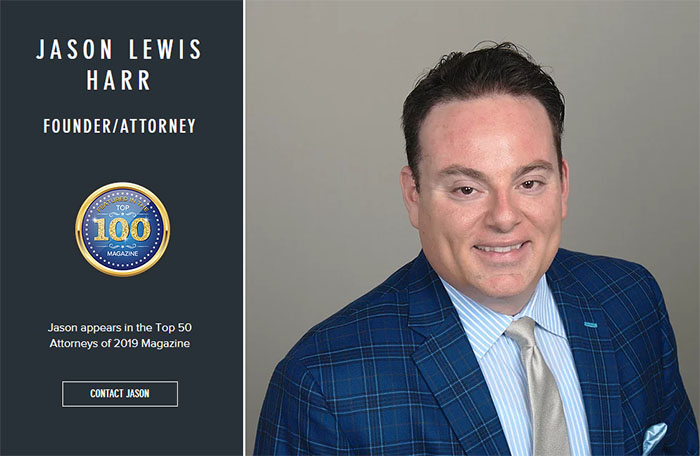 Jason L. Harr, J.D., M.P.A.
Jason L. Harr is the founder of The Harr Law Firm, a Daytona Beach-based full-service law practice. Throughout his professional legal career, Mr. Harr has been a strong advocate for individuals and their rights. His practice encompasses all aspects of family law, divorce law, personal injury, health law, emphasizing health care litigation, corporate, transactions and administrative law.

In 1999, Jason L. Harr received his Juris Doctorate from Nova Southeastern University, the Shepard Broad Law Center, in Davie, Florida. In 1996, he earned his Master in Public Administration through the graduate business school at the University of Miami, in Coral Gables, Florida. Mr. Harr received a Bachelor's degree from the Tulane University of Louisiana, College of Arts and Sciences, where his major was Political Science and minor was Economics, in 1994.

Following graduation from law school, Mr. Harr returned to the Volusia County area where he worked in the private sector representing clients for all types in matters involving personal injury, divorce, discrimination in the workplace, and all types of family law.

In 2005, Jason L. Harr founded The Harr Law Firm with a determined purpose. That purpose was to provide clients with honest and experienced legal representation designed to meet their objectives with personal service in mind. In recent years, Mr. Harr has represented clients in all types of legal issues from as far north as Jacksonville, Florida to as far south as Key West, Florida.

Throughout his professional career, Mr. Harr has been interviewed and featured by several national and local news outlets including, but not limited to, The Daytona Beach News-Journal, The Miami Herald, The New York Post, Fox Sports, Sports Illustrated, Spectrum News 13, WESH NBC Channel 2, WKMG CBS Channel 6, and WFTV ABC Channel 9.
Jason L. Harr is licensed to practice in the United States Middle District and Northern District Courts, United States Court of Appeals, Eleventh Circuit, U.S. Tax Court, and all state courts in Florida. His professional experience includes trying cases in both federal and state courts. Mr. Harr routinely receives referrals from his colleagues throughout the State of Florida.