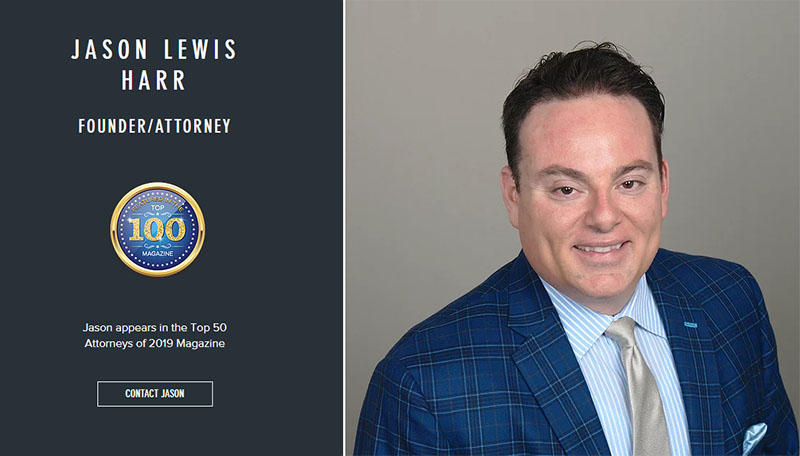 Top 50 Attorneys of 2019 Magazine
Jason Lewis Harr firmly believes that self-motivation is the key to success. While he credits his parents with being his role models, providing him with guidance and direction and instilling important values in his life, he feels that you must believe in your own talents and abilities.

"Self-motivation is the catalyst for success – in any profession." Jason explains that living by this philosophy has positively affected his life and his career and adds, "Self-motivated people are successful." He conveys that you really have to work harder than everyone else – which is what Jason has done throughout his education and his career.

Jason was born in Brussels, Belgium and moved with his family to the United States and was raised in Ormond Beach Florida. A graduate of Tulane University, Jason received a Bachelor's Degree in political science and economics. He continued his education at the University of Miami where he earned a Master's Degree in public administration and business. He went on to receive his J.D. in law from Nova Southeastern University Shepard Broad College of Law in Fort Lauderdale, Florida.

Today, Jason is an attorney and the founder of the Harr Law Firm, a full service law firm that he established in 2005. The diverse firm is in its fifteenth year of business and focuses on family law, high asset divorce law, personal injury, wrongful and administrative law. In his practice, Jason is a strong advocate for individuals and their rights.
Jason started his law firm with the goal of always putting his clients first. His main goal is to work hard for his clients and treat them with integrity. Just as importantly, he is also committed to treating his support staff with fairness and respect - as they are vital to the law firm's success. He adds, "If you put clients before profit and sacrifice daily for them - the business end will take care of itself."

Jason has received numerous awards and honors as a result of his ethical service and dedication to his clients. In 2011, Jason was honored as one of only three businesses in the entire United States selected to be featured in the annual stockholder report for TD Bank. In total, only ten businesses world-wide were featured. As part of this honor, a TD Bank representative from Toronto flew to Daytona Beach to conduct an interview for the feature.

In addition to his professional accomplishments, Jason strives to live a balanced life; when he is not representing clients he enjoys traveling internationally with his family and snow skiing.