Who's Responsible If You Fall on an Icy Sidewalk?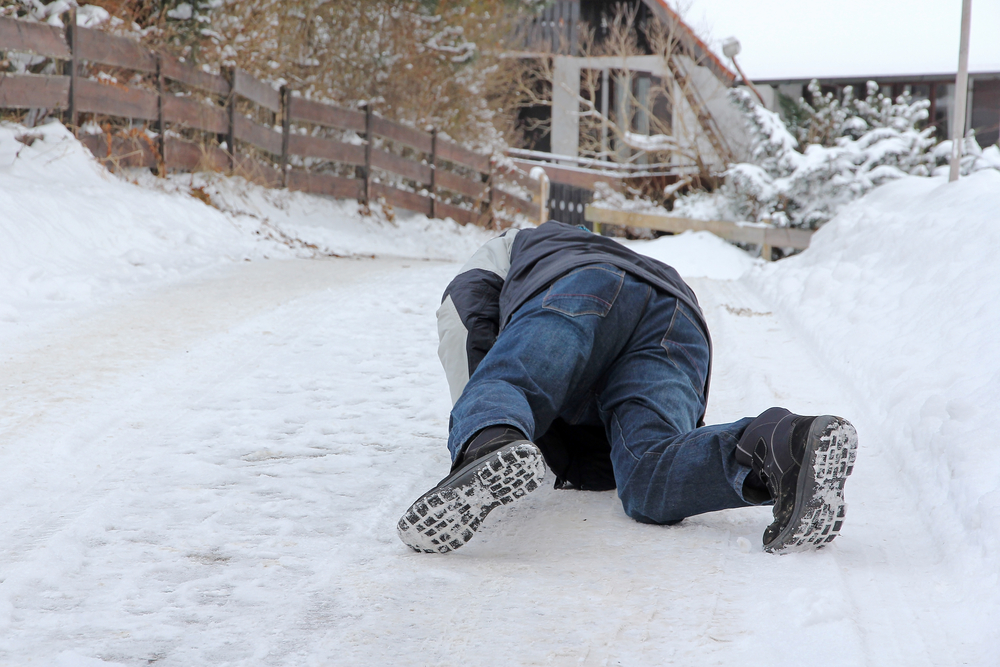 The winter chill is still alive and well in most parts of the country. As temperatures continue to dip below freezing at night, there's a good chance that sidewalks and driveways will become icy. If you slip and fall on an icy sidewalk, and you experience a serious injury, who is liable for the resulting medical bills? Are you entitled to seek compensation for those injuries, and if so, from whom? Keep reading to learn more about premises liability in regards to slip-and-fall accidents like these.
What Is Premises Liability?
First, let's get a clear definition of what premises liability is. Simply put, premises liability is the legal obligation that property owners have to maintain a safe environment for anyone who may enter the property. This doesn't just apply to commercial properties or other spaces that are open to the public either; even private property owners have some premises liability that requires them to ensure visitors are safe when on the property.
If an injury occurs on someone's property because they failed to maintain a safe environment or reasonably warn visitors of the present dangers, the property owner can be held liable for the resulting costs of that injury.
Who Is Responsible for Maintaining the Sidewalk?
Now that we've established premises liability, let's talk about another important factor in cases like these: Who is responsible for maintaining the sidewalk? Many people don't know that the sidewalk that passes in front of their house is considered their responsibility, at least when it comes to removing snow and ice. (Damaged sidewalks are another matter, which would need to be taken up with the city.) When the sidewalk in front of your home becomes icy, it is considered your job to remove the ice and make it safe for passersby to use. This means that the sidewalk in front of any home or place of business would be included in that property owner's premises liability.
Can You Reasonably File a Case for Your Injuries?
Thus far, we've discussed only the most straightforward parts of slip-and-fall cases like these. However, personal injury cases are rarely cut and dry. Even if you know exactly who was responsible for maintaining the sidewalk where you fell, there are still many other factors to consider that will impact your ability to pursue a personal injury claim.
For example, let's say you like to take your walks early in the morning, before heading into work. You bundle up and head out on your stroll at 5:00 in the morning, only to wind up falling and hitting your head because of a patch of ice on the sidewalk. Yesterday evening, that ice was simply a small puddle, but it froze overnight. The owners of the property that abut that sidewalk aren't awake yet, and have not yet had the opportunity to even attempt to remove ice from their sidewalks. Would you be able to file a claim in a situation like this?
In all likelihood, the answer would probably be no. This is because, in order for premises liability to apply, the property owner must be aware of the dangerous circumstances and have had the opportunity to correct it. Because the sidewalk was simply wet when the property owners went to bed, they can't be expected to know of the dangerous ice that's now formed. While your injuries may be very real and very painful, they most likely would not be held liable.
Now, let's assume that your area has experienced snowy, cold weather for days now. A house down the street from you has not once shoveled their sidewalks, though they've had no problem clearing their own driveway to get in and out of their home. Because of people using the sidewalk and the slight melting and refreezing the sidewalk receives on a daily basis, that part of the sidewalk has now become coated with ice. While out for a walk, you slip and fall. Would you have a solid case in these circumstances?
The answer would probably be yes, especially if you could prove that the circumstances leading to your injury were preventable. You could do this with photos that clearly demonstrate the ice has accumulated over time, or written statements from other neighbors who had noticed the problem. If you can prove that the property owner knew of the hazardous situation outside their home and did nothing to prevent or correct it, you can likely pursue compensation for your injuries from them.
Get Representation for Your Slip-and-Fall Case
If you've fallen on an icy sidewalk, The Harr Law Firm can provide you with representation to pursue compensation. Whether we negotiate with the property owner's insurance company or take the matter to court, we'll ensure your rights are protected. Contact us today to discuss your case.